GYMNASTICS IS THE MOTHER OF ALL SPORTS!
Gymnastics helps in kids' physical development through its movements, which forms the fundamental mechanics of many other sporting motions. It is also essential in building important life skills like self- confidence, grit, discipline and patience.
HELPS KIDS TO GET READY FOR SPORTS!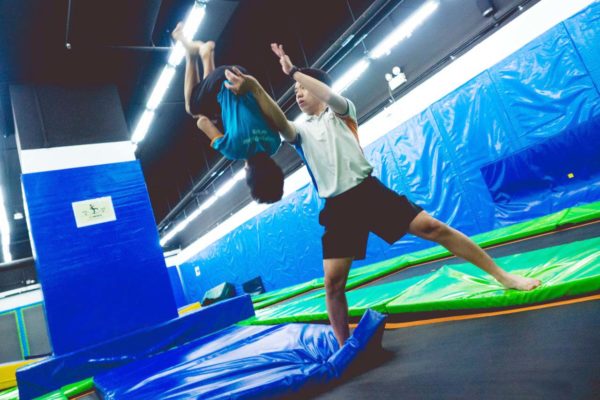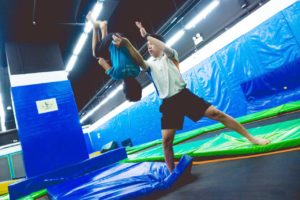 All kids LOVE the trampoline!
Many of us here in Singapore do not have the luxury of having a trampoline at home, and are definitely missing out on its wonderful benefits.
One such benefits includes building height confidence and efficient jumping mechanics in kids to perform cool moves like a somersault, and develop athleticism to jump up for a block shot in basketball and Volleyball.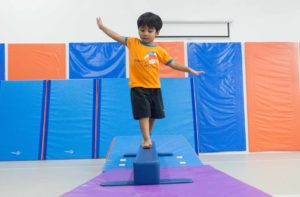 The Balancing Act
Kids balancing on a balance beam will develop a great sense of body awareness, and balance which helps with their agility and stability in sports in which they weave and turn around opponents in rugby and executing a perfect roundhouse kick in Taekwondo.
HELPS KIDS TO DEVELOP PHYSICALLY, MENTALLY, AND PSYCHOLOGICALLY!
In a very natural way these simple gymnastic exercises create a muscle movement pattern. Our brain then stores these movement patterns in so-called engrams, which the nervous system can access continuously during our development.
With the learning of gymnastic skills comes the acquisition of fundamental motor skills that are applicable sports and daily activities. These basic movement patterns are best acquired at an early age, where all other learning processes are at its optimal.
As early as 4 to 6 years old, Kids are ready for movements like forward and backward rolls, hand or head stands, cartwheels and pull-ups. Flexibility drills like reaching out for their toes with their fingertips is a simple gymnastic exercise that can be easily performed with measurable success.
With every movements "unlocked", kids build confidence in their abilities and learn to set goals and develop grit and patience as they spur on to learn more advanced skills. Check out the AMAZING BENEFITS OF GYMNASTICS and learn how gymnastics prepares your child for other sports too!
Check out our fun and interactive gymnastics classes here and speak to us on how we can help your child to develop their fundamental motor skills through our classes here!
Link:
Bukit Batok Branch: https://bearyfungym.com/bukit-batok/
Changi Branch: https://bearyfungym.com/changi/
Katong Branch: https://bearyfungym.com/katong/