Welcome to BearyFun Gym Changi
Step into the world of BearyFun Gym Changi, nestled in the vibrant heart of Changi Business Hub. Opened in 2016, this gym is a stone's throw away from the bustling Changi City Point and Expo. Brace yourself for an adventure because BFG@Changi is our largest branch, spanning an impressive 4200 square feet. Within these spacious walls, we offer students an expansive area to master their floor and trampoline skills, ensuring an unforgettable experience.
Engage the Minds & Bodies with Enriching Challenges
But what truly sets us apart is our commitment to personalised attention. With a remarkable student-to-coach ratio of 1:8, we pride ourselves on offering Singapore's finest gymnastics class ratio and learning environment. Whether you're a beginner or a seasoned gymnast, our gym is the perfect haven to ignite your passion for the sport and make lifelong memories.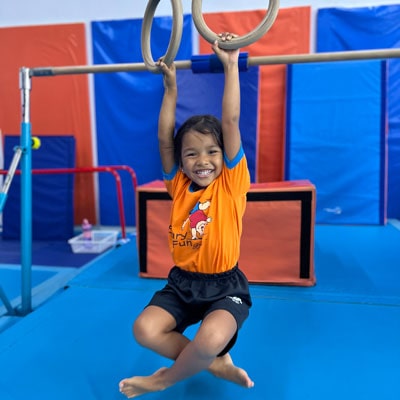 2 Minutes Walk from Expo (Downtown Line) MRT
5 Minutes Walk from Expo (East Line) MRT
Accessibility is our middle name, as we are conveniently located just a hop, skip, and a jump away from Expo MRT station. The nearby Tanah Merah and Simei MRT stations also provide easy access to our gym.
How Gymnastics Benefits Your Child
Why Sign Up for our Trial Class?
Wish to get your kid to exercise more, build up their confidence, and focus better at school? Enroll in our popular trial kid gymnastics class!
Here's why:
The trial class is 1 hour for children below 6 years old and 1.5 hours for 7 years and above
Kindergartens & Childcare
Full Time Qualified Coaches
Choose The Right Stage To Start
Set your mind at ease! Our stage-by-stage gymnastics movement curriculum is constantly developed and improved over the years by specialists with Diplomas and Degrees in sports management and early childhood education.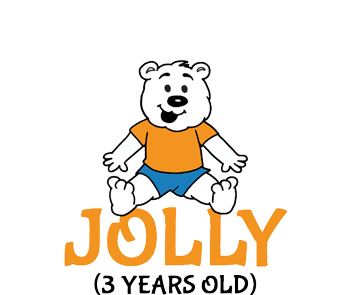 Your child will enjoy gym-based physical activities in a setting that promotes independent learning. Social activities will be organized to help your little one learn to listen and follow directions!
Energetic and fun, these are ideal for your growing child to dive into! They include fitness circuits that encourage continual movement and risk taking.
Need more gymnastic excitement for your kindergarten kid? They will learn tumbling skills and locomotor movements that build their strength, agility, coordination, and confidence.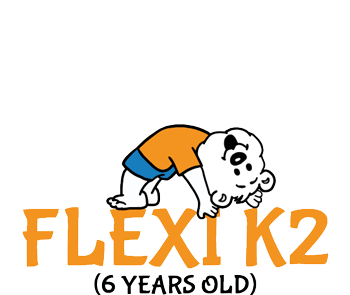 Focused on learning technical gymnastic skills, to further challenge your child both physically and mentally. This may include anything from trapeze swings and cartwheels, to backflips and more.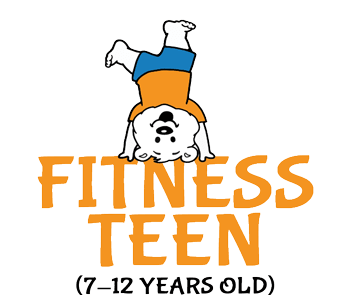 Wish to keep your primary schoolers physically active? This 90 minute weekly programme includes strength and conditioning exercises. Helps them to learn and master physically demanding and challenging gymnastics skills.
Who Are The Coaches of BearyFun Gym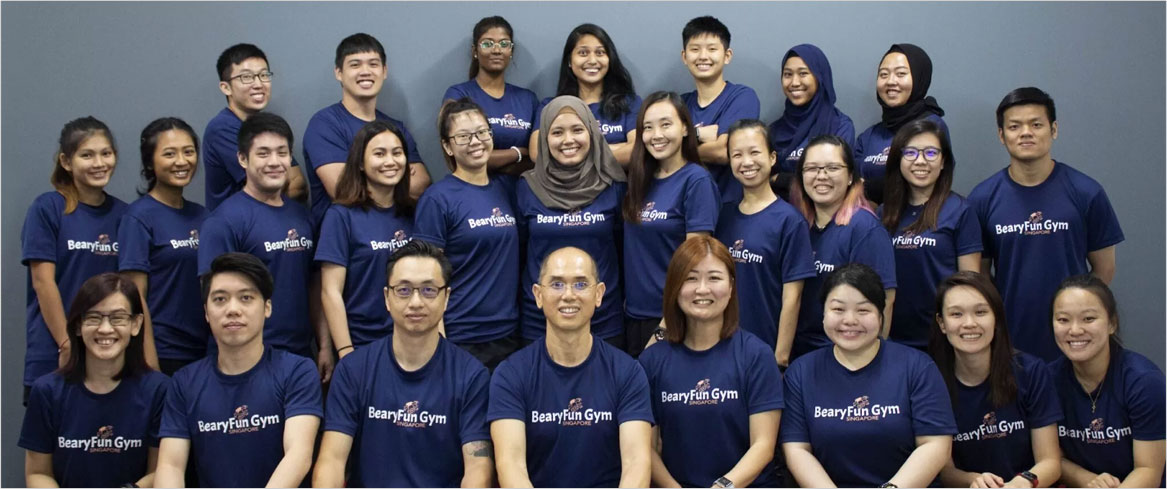 At BearyFun Gym, our founders Terran Aw and Sim Ker Ling lead a team of dedicated "Bearians" to guide your child's growth. Terran, a former stuntman, and Ker Ling, an experienced preschool educator, are passionate about teaching essential movement skills. With over 20 skilled coaches, we create strong connections with children and parents. Experience the positive impact on your child's physical and cognitive abilities with BearyFun Gym!
What BearyFun Parents and Preschool Customers Say

My daughter enjoys herself during class and looks forward to her weekly lessons. The coaches have done an excellent job at pushing her beyond her comfort zone. The coaches respond to feedback positively, and on their part often provide constructive feedback on how to help the children improve (eg flexibility stretches, how to build the arm strength necessary for handstands). While it may seem a frivolous way to spend time and money, recreational gym provides children with a fun and meaningful way of channeling all that energy. Bearyfun Changi happens to be exceptionally good at realising this.
Serenia Sia

We can see improvements in our children's gross motor skills. For the younger age group, they have become more stable and steadier in their movements. For the older age group, they were able to bring out the children's potential and increase their agility, speed and flexibility. The coach would incorporate all the skills taught during the lessons and turn it into a year-end performance. They never fail to impress our parents with the performance!
My Little Kingdom

My kid and nieces love gym at Bearyfun's. They look forward to every class each week! I'm very impressed by the degree of intimacy and support for the child. Classes are kept small, coaches report the child's progress to the parents at the end of every session. I also get videos of what she's doing during class, which I love watching. Their passion and seriousness in their work is commendable. Highly recommended!!
Lin Tan

BearyFun gym at Changi Biz hub is great. My child's teachers are very patient and work very well with the kids. It's always pleasant for the kids to be welcomed by their names and a smile. Trampolines are quite an attraction and kids enjoy it a lot. My Daughter benefits from her weekly class and I would recommend BerryFun Gym to anyone who is interested in Gymnastics and a weekly exercise lesson.
Pooja

It has been a fruitful 1 year journey with BearyFun Gym. My child has grown so much and is able to build confidence and physical strength through the program. I love the fact that going to the program stimulates her body and helps her to build an active lifestyle. Keep it up BearyFun Gym! (Special shoutout to Ms Sya and I truly appreciate all the coaches' patience towards my child!)
Christia Liew

My son has looked forward to his BearyFun Gym lesson every week ever since he started his first lesson in last March school holiday. I can see the change in him, especially his self-confidence and cognition. Thanks to his coach, Miss Joce, her guidance and encouragement to him and update me his progress promptly.
Julia G

My son has been attending lessons at Bearyfun Changi for about 6 months now, and thoroughly enjoys them. Coach Pang as well as the other teachers there are always friendly, patient and welcoming to young children, and take the time to encourage the children as they learn. Highly recommended!
Mark Foo

Caelum Junior Group has partnered with BearyFun Gym since 2011. The instructors are professional and lessons are fun for the children. The children have gained much from the classes and always look forward to them.
Caelum Junior Group

Gym sessions are well structured for and age appropriate. Teachers are professional in their lesson delivery. Most of all, the lessons are enjoyable, and our children look forward to their sessions each week.
Jurong Calvary Kindergarten
BearyFun Gym @Changi
8 Changi Business Park Ave 1, #B1-51 ESR BizPark@Changi, Singapore 486018
How to get here?
Contact Us
Changi Class Schedule
We keep our class size small at 8 children per class.
To book a spot in one of our classes, kindly fill out the form with your preferred timeslot, and we'll contact you shortly to confirm availability.
DAY
TIME
Wednesday
4:30pm - 5:30pm
Thursday
4:00pm - 5:00pm
Saturday
11:30am - 12:30pm
4:00pm - 5:00pm
5:00pm - 6:00pm
Sunday
4:00pm - 5:00pm
5:00pm - 6:00pm
DAY
TIME
Wednesday
5:30pm - 6:30pm
Thursday
5:30pm - 6:30pm
Friday
5:30pm - 6:30pm
Saturday
9:00am - 10:00am
10:30am - 11:30am
11:30am - 12:30pm
2:00pm - 3:00pm
3:00pm - 4:00pm
4:00pm - 5:00pm
5:00pm - 6:00pm
Sunday
9:00am - 10:00am
10:30am - 11:30am
11:30am - 12:30pm
2:00pm - 3:30pm
3:30pm - 4:30pm
4:30pm - 5:30pm
5:00pm - 6:00pm
DAY
TIME
Wednesday
5:30pm - 6:30pm
Thursday
5:30pm - 6:30pm
Friday
4:00pm - 5:00pm
Saturday
9:00am - 10:00am
10:00am - 11:00am
11:30am - 12:30pm
2:00pm - 3:00pm
Sunday
9:00am - 10:00am
11:30am - 12:30pm
3:30pm - 4:30pm
4:30pm - 5:30pm
DAY
TIME
Tuesday
5:30pm - 6:30pm
Thursday
4:30pm - 5:30pm
5:30pm - 6:30pm
Friday
5:30pm - 6:30pm
Saturday
9:00am - 10:00am
10:00am - 11:00am
3:00pm - 4:00pm
5:00pm - 6:00pm
Sunday
10:30am - 11:30am
11:30am - 12:30pm
2:00pm - 3:00pm
3:30pm - 4:30pm
4:30pm - 5:30pm
DAY
TIME
Tuesday
4:00pm - 5:30pm
Wednesday
4:00pm - 5:30pm
5:30pm – 7:00pm
Tuesday
4:00pm - 5:30pm
Wednesday
4:00pm - 5:30pm
5:30pm - 7:00pm
Thursday
5:30pm - 7:00pm
Friday
4:00pm - 5:30pm
5:30pm - 7:00pm
Saturday
9:00am – 10:30am
11:00am - 12:30pm
2:00pm - 3:30pm
3:30pm - 5:00pm
4:00pm - 5:30pm
5:00pm - 6:30pm
Sunday
9:00am – 10:30am
10:00am - 11:30am
11:30am - 1:00pm
2:00pm - 3:30pm
3:30pm - 5:00pm
Book A Trial Class
Thank you for considering BearyFun Gym! To help us better serve you, please provide your details in the enquiry form below. We will respond to your inquiry as soon as possible.