Unleash the
power of
GYMNASTICS
Book a trial class for only $60
Exclusive BearyFun Gym T-Shirt and Shorts (upon signup)
The trial class fee is waived upon signing up for the term lessons!
Why Sign Up for our Trial Class?
Wish to get your kid to exercise more, build up their confidence, and focus better at school? Enroll in our popular trial kid gymnastics class! Here's why:
The trial class is 1 hour for children below 6 years old and 1.5 hours for 7 years and above
70
Kindergartens & Childcare
29
Full Time Qualified Coaches
Choose The Right Stage To Start
Set your mind at ease! Our stage-by-stage gymnastics movement curriculum is constantly developed and improved over the years by specialists with Diplomas and Degrees in sports management and early childhood education.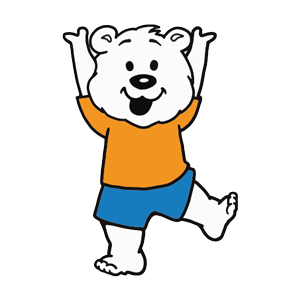 Bearytots (1.5yrs)
A perfect introduction to the terrific topsy-turvy world of toddler gymnastics! We stimulate the senses of your little ones, with music, movements, and multi-sensorial experiences to spark their interest.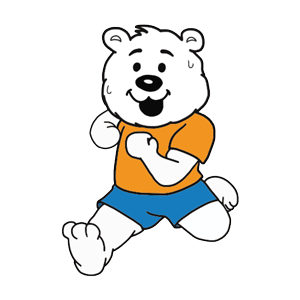 Bubbly (4 years old)
Energetic and fun, these are ideal for your growing child to dive into! They include fitness circuits that encourage continual movement and risk taking.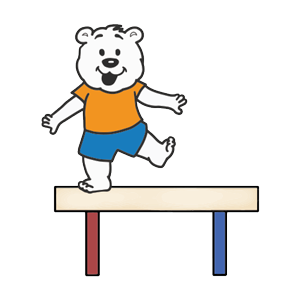 Lively (5 years old)
Need more gymnastic excitement for your kindergarten kid? They will learn tumbling skills and locomotor movements that build their strength, agility, coordination, and confidence.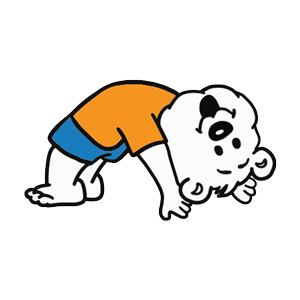 Flexi K2 (6 years)
Focused on learning technical gymnastic skills, to further challenge your child both physically and mentally. This may include anything from trapeze swings and cartwheels, to backflips and more.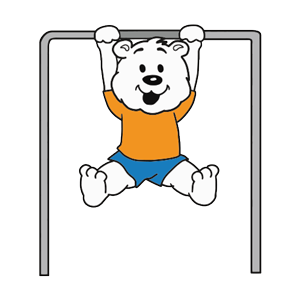 Fitness Teen (7-12 years)
Wish to keep your primary schoolers physically active? This one-and-half hour weekly programme incorporates conditioning and strength activities that prepare them for more physically demanding skills. They will also learn and master more challenging gymnastics skills.
BearyFun Gym was started by former MediaCorp stuntman Mr Terran Aw. Overcoming a learning disorder from young, his passion is to equip teachers to teach young children with essential movement skills. Partnering Terran is Ms Sim Ker Ling, an experienced preschool educator who has years of gymnastics coaching experience. Supporting Terran and Ker Ling, BearyFun Gym has a team of over 20 full time coaches who are experienced in managing and coaching children of different age groups. 
With our knowledge of child development and needs, we are able to establish a good and warm rapport with children and their parents. We have seen many children improve in their physical and cognitive abilities and receive positive feedback from parents and school.
What BearyFun Customers Say
My son, Aaron has been learning gymnastic at BearyFun Gym (BFG) for 7 years since 2013 when he was in K2. Aaron enjoys his gym lessons very much & always look forward to his weekly class. The coaches are very patient, caring & encouraging. They also make continuous effort to ensure that Aaron can pick up the skills & not give up when some of the movements are more challenging to grasp. Under the training & guidance of various trainers throughout the years, I can see improvement in Aaron's motor skills & confidence. BFG has friendly staff & fantastic trainers. Great place for kids to learn not only gymnastic skills, but also discipline & confidence. To all the coaches, keep up your good work & thank you for your dedication..... I will continue to recommend BearyFun Gym to my friends.....!.
My daughter attended Beary Fun Gym since she was in K1.  She was introduced to the gym through one of her excursions in childcare. The trainers at BFG are professional in their attitude towards training and extremely caring and friendly towards the children.  My daughter's motor skills and ability has improved alot and this really aided her in her CCA and PE lessons ok np school now.  She's currently in P3 and still attending BFG. BFG has a structured system of training that will develop the child's skills in various disciplines such as trampoline, floor skills, bars as well as more challenging moves such as forward somersaults.  Under the astute training and guidance of founder Mr Aw,I have seen many children progressing through the various stages. My daughter also made many friends through her journey with BFG.  It is one enrichment class that she would never miss. All in all, BFG has been a really  professional and a happy place for children to expose themselves to exercise and sport.
What struck me most was their professionalism and customer-centric service. They are quick to answer your queries and try their best to accommodate your requests. The coaches are clearly trained well to handle young children and making them feel at ease. My 2.5 yo daughter feels comfortable with all the coaches there and looks forward to the gym sessions. The environment is very clean, and we like that the waiting area for parents is air-conditioned, with soft lounge music and we are able to see the session. Ms Joce and Ms Chiew are wonderful coaches - they do a great job building rapport with parents / child and always checking in on us. Keep up the good work Bearyfun Katong team!
My young children really enjoy coming to this gym as they get to jump in trampolines and climb over obstacles. I'm very impressed with the care shown by the staff as well. I recall one situation where my daughter was having a bad day and refused to participate. I just assumed she would sit out the session, but a staff member spent 10 minutes consoling her and she ended up participating.
My daughter enjoys herself during class and looks forward to her weekly lessons. The coaches have done an excellent job at pushing her beyond her comfort zone. The coaches respond to feedback positively, and on their part often provide constructive feedback on how to help the children improve (eg flexibility stretches, how to build the arm strength necessary for handstands). While it may seem a frivolous way to spend time and money, recreational gym provides children with a fun and meaningful way of channeling all that energy. Bearyfun Changi happens to be exceptionally good at realising this.
My son has been going to Bearyfun@Changi for over a year now and has been enjoying his time there. The activities that they make your child do are very age appropriate. The teachers are very cooperative and very patient with the kids, but at the same time strict where they need to be.   I would specially like to mention my kid's teacher, Ms Joy. She has been very good with my son. She gives regular  feedbacks on my son's progress. And she also shares videos of my son's achievement. This makes me truly believe that the teachers believe in what they do and take pride in what they do. Highly recommend.
My kid and nieces love gym at Bearyfun's. They look forward to every class each week! I'm very impressed by the degree of intimacy and support for the child. Classes are kept small, coaches report the child's progress to the parents at the end of every session. I also get videos of what she's doing during class, which I love watching. Their passion and seriousness in their work is commendable. Highly recommended!!
My 3 boys enjoy the gym lessons a lot! The programmes for each level is well-planned and progressive, there are games to make the lessons fun and most importantly, the instructors are caring, positive and motivating. Thank you very much Bearyfun Gym, especially to Mr Wee and Mr Pang! The boys have much better motor coordination now. Really appreciate how you've helped them grown (in both their skills, character and mental strength) over the years.
BearyFun @ Choa Chu Kang [New Branch]
Choa Chu Kang Sports Centre, 1 Choa Chu Kang Street 53, #02-07 & #02-08 Singapore 689236
BearyFun @ Bukit Batok [Flagship Outlet]
Bukit Batok Swimming Complex, 2 Bukit Batok St.22 Singapore 659581
BearyFun Gym @ Katong
Katong Swimming Complex, 111 Wilkinson Rd,
Singapore 436752
BearyFun Gym @  Changi
8 Changi Business Park Ave 1, #B1-51 ESR BizPark@Changi,
Singapore 486018
Book A Trial Class
Thank you for your interest in BearyFun Gym! Please fill up your enquiry and we will get back to you soonest possible.